Network Olympus is ready to roll!
That's right, friends. Today we are very excited to announce the release of the new product. No more beta testing!
We are very thankful for all your feedback that we received during the beta period. It showed us that the product is solid and ready to go. Of course, it's just the first module of the whole project. Nevertheless, it's the beginning of a whole new era for Softinventive Lab.
Ok, done with the official part here, let's move on to details, discounts and gifts.
What's new?
You can find the description of the main Network Olympus features and capabilities in our previous post here. In the release version, we've fixed some minor bugs, adjusted several settings here and there and improved the network map a bit. Now we want to show it to the world.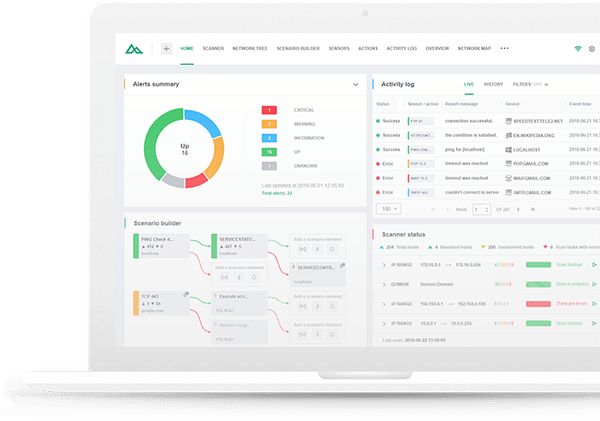 Licensing
Let's take a look at the new licensing model. Currently there are three types of licenses in Network Olympus:
1. Trial mode. It provides full functionality, and the amount of devices that you can scan and sensors that you can create is unlimited. This mode is activated automatically after the installation. The program will work this way for 60 days. Should be enough for testing, but you can always request the extension of the trial period.
2. Free license. When the trial period is over, the program will switch to Free license. Just 50 devices and 100 sensors are allowed for this type of license. In addition, sensors cannot be assigned to groups. Nevertheless, this license has no time limitations. You can use it anywhere, anytime!
3. Commercial license. In the commercial license, the number of devices that you can manage varies from 100 to Unlimited. Your license can be upgraded to a higher number of devices at any time. When you make a purchase, you can also choose 1, 2 or 3 years of receiving updates. All licenses are time-unlimited.

Commercial licenses are already available for purchase on this page.
Discounts and gifts
We highly value our customers who own Total Network Inventory, Total Software Deployment and Total Network Monitor. We'll be very glad if you take interest in our new project as well. In gratitude for your loyalty, we offer you a discount on the initial purchase of the new product.
Owners of TNI, TSD and TNM licenses will receive discounts on licenses for Network Olympus: Monitoring! The discount amount can be calculated on this page. This offer is non-expiring. Join up!
We'd also like to thank all the users who have participated in beta testing. Your feedback has been very valuable and helpful. Thanks to you, we've eliminated minor defects and made the program more user-friendly. As promised, everyone who has contributed by sending feedback about the beta version will receive a commercial Network Olympus license that includes a year of updates. The keys will be mailed out from November 1st to 9th.
And all new users are invited to try out the release version of the program as soon as possible by downloading it from the link:

That's all we have for today. Please submit more feedback and suggestions. More news are coming about new features and functionality in most of our products. In fact, the 4th version of our most popular program will be released very soon. It's going to be huge! But that's all we can say right now. See you in November!