Network Olympus 1.8.0 New dashboard Sensors/Actions and other improvements
Hi everyone! Recently, the Network Olympus team has rolled out the 1.8.0 update, so it is time for us to bring you some details about what has been changed.
The first thing you will notice after starting the program is that two dashboards, Sensors and Actions, are now represented with a single, more comprehensive entity. This gives you more space for custom dashboards and allows you to get more information without having to switch to another tab.
The Sensors/Actions dashboard is a simple but powerful tool that allows you to view, add and manage all of your sensors and actions in one place. Here you will find the new "Success rate" column that displays the percentage of successfully executed monitoring elements.
In addition, the new "Linked notifications" column allows you to see and quickly edit any notification that is linked to a monitoring element: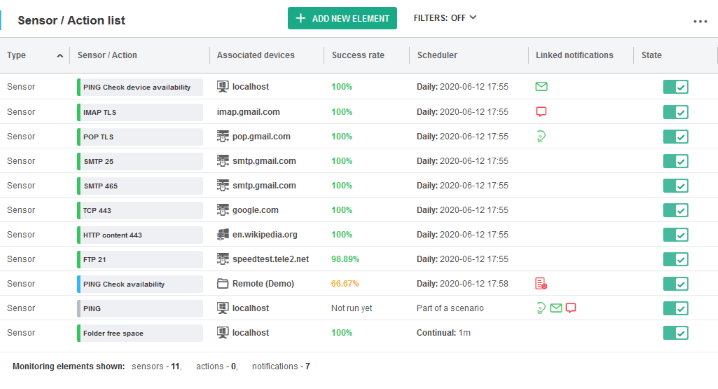 The licensing model has been slightly changed according to the requests of our users:
- Two new licenses are now available for purchase: for 25 and 50 devices.
- The group sensor restriction has been completely removed from the program.
- The number of devices that you can monitor with the free license has been decreased to 10.
- Devices added over the limit will appear in the storage as inactive and marked with a padlock icon. Removing the active devices of lower priority will activate more devices automatically.
Among the other improvements, we would like to highlight the updated HTTP Content sensor and the increased overall responsiveness and stability of the application.
That's all the news for today. I wish you good luck, and see you next time!
What's new:
{item_0}
{item_1}
{item_2}
{item_3}
{item_4}
{item_5}
{item_6}
{item_7}
{item_8}
{item_9}
{item_10}
{item_11}
{item_12}
{item_13}
{item_14}
{item_15}
{item_16}
{item_17}