The Network Olympus beta is out!
Greetings, friends!
And welcome to the new website and blog dedicated to our new project: the Network Olympus! You are one of the first users to see our new product and we are very excited to share with you everything we've been working on lately.
Here in Softinventive Lab, we used all our experience and knowledge that we have accumulated over 10 years to create an absolutely new and unique product for you guys. This project is our vision of what a really good tool for network administration should look and feel like. The key formula of Network Olympus is "Simplicity + Efficiency". The new tool is designed to combine all the functionality of our previous products and provide you with a single unique web-based solution.
Today we're extremely proud to present to you the first public beta of Network Olympus: Monitoring!

Network Olympus: Monitoring
Monitoring is the first module of the Network Olympus project, and it's designed to effectively keep track of key parameters and assets of your corporate network. Of course, we know that there are many other monitoring tools on the market these days, but we wanted to create something that's both different and special.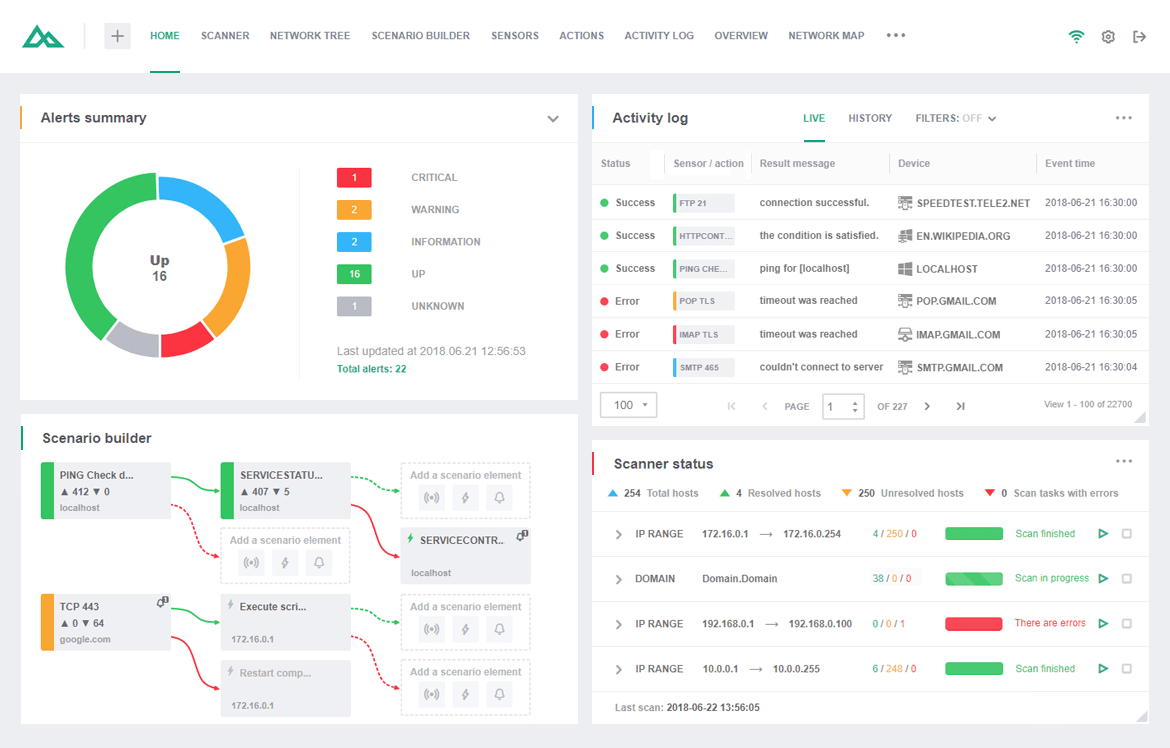 Let's start and get acquainted with the interface. It's web-based, so you can access it from any device that has a browser and internet access. The look of Network Olympus is fully customizable. You can modify the existing dashboards or create your own and fill them with widgets like those that you see on the screenshot above. A solution to any task is always at hand or just a few clicks away!
The basic logic of the monitoring module is really simple and efficient: Device – Sensor – Action.
Fill the network tree with devices automatically using the scanner. Сlick a device to add a sensor, сlick the sensor to add an action and/or notification. Boom! The sensor checks the parameter of your choice on the remote computer and notifies you if something goes wrong. It's that simple!
For any complex task, there is an easy solution in the scenario builder. Here you can combine any sensors, actions and notifications into something exciting. Unleash your imagination and automate problem solving. The scenario builder allows creating sophisticated logic chains no harder than playing Lego. Put the bricks together and get the result. No script writing is required!
Statistics and reports in Network Olympus are currently represented by the following dashboards:

Sensors – Check your sensor statistics and status here.
Actions – Here you can find the statistics on all actions.
Activity log – Every event that has occurred in Network Olympus is carefully logged here. Filters will come in handy when you need to find some entry that is long gone.
Overview – a detailed report on all triggered sensors and actions.
Participate in beta testing and get present!
Experience the beta version right now and let us know what you think about Network Olympus. Everyone who actively participates in testing is guaranteed to receive a gift: a free license of Network Olympus.
At this point, our first post comes to a close, and in conclusion we'd like to quote a great man and famous writer Theodor Seuss Geisel (Dr. Seuss):
"Today is your day, your mountain is waiting. So get on your way."